2017 Invitation for Proposals
The Dorrance Family Foundation
Conservation Program
Southern California and Island of Hawaiʻi
The mission of The Dorrance Family Foundation is to improve the quality of life in the community by supporting education and natural resource conservation.
NATURAL RESOURCE CONSERVATION PROGRAM PURPOSE:
To provide program support for innovative, high-performing non-profits demonstrating effectiveness and expertise in natural resource conservation through preserving, protecting, restoring and fostering sustainable management of marine, land and fresh water ecosystems and biodiversity for future generations in Southern California and the Island of Hawai'i.
GEOGRAPHIC FOCUS:
Island of Hawaiʻi

Southern California
Marine:
Coastline of greater Los Angeles to the border of Mexico, including the Channel Islands
Land and Fresh Water:
Santa Monica Bay Watershed
Los Angeles River Watershed
San Gabriel River Watershed
San Gabriel Mountains
Puento-Chino Hills Wildlife Corridor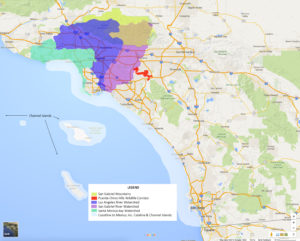 (click map for details)
APPLICATION INSTRUCTIONS:
Please read the entire Invitation for Proposal for requirements and application instructions before applying. You may download it here: The Dorrance Family Foundation – Invitation for Proposal.
ONLINE SUBMISSION:
Applications will only be accepted online beginning with a letter of inquiry. If your organization meets the eligibility criteria and guidelines, click below on the "CLICK HERE TO APPLY" button to begin your submission according to the Invitation for Proposal schedule and deadline (see below). Please note that if you have received a grant from The Dorrance Family Foundation in the past, you may already have an organization account and log-in information.
QUESTIONS?
We will be holding a brief conference call to answer your remaining questions and review the online letter of inquiry and selection process on June 30, 1:00 – 1:30 pm MST. Dial 877-389-2062, conference code 481-529-6384, to join the call.
DEADLINES:
Submit your letter of inquiry no later than 5:00 pm MST, July 14, 2017. Letters of inquiry and invited full proposals will only be accepted through our online process.
View a list of previously awarded organizations here: ‎2016 Conservation Program Recipients